Bookmaker.eu History
The History Of Bookmaker
The Bookmaker.eu didn't become the incredibly popular online gambling presence that it has become overnight. It has taken a number of years with exceptional performance to reach the level that the Bookmaker.eu site is currently at.
To give you an idea of how the site developed, here is a quick timeline and history of the Bookmaker.eu website.
(Note: The screenshots are remnants of what the sites looked like previously. Some images and styles will be missing, and so they are not exact screenshots of how Bookmaker.eu used to look.)
The early years.
The Bookmaker site was formed in 2001, which is very early in terms of online gambling websites. This is well before online gambling started to take off, and so the Bookmaker.eu company was a pioneer in its field.
At this time, the bookmaker design was very simple (as were most sites at this time) and the site was strictly a Sportsbook only.
The site became a little more structured in late 2002, and so was far more user-friendly than when it first started. At this time, the site also started to integrate Casino games into the line-up, which quickly became popular with many of the sports bettors and visitors to the site.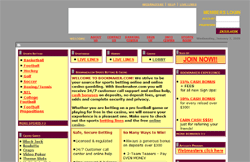 Bookmaker.eu between 2003 and 2005.
The Bookmaker history between 2003 and 2005 is about continued progression of the brand.
Bookmaker stuck with the same design for the majority of 2003. After all, the site was performing well, and so if it's not broke, then don't fix it. However, at the end of 2003 it went under a small redesign which made it look a little more streamlined, although it maintained the same look and feel as the previous design.
It was in the second half of 2004 that Bookmaker.eu really stepped up its game in the design department. The site went from being somewhat clunky and awkward, to a more sleek and modern design that really set it apart from other online gambling websites. It was now evident that Bookmaker was a great destination for anyone looking for a solid sportsbook, racebook or casino.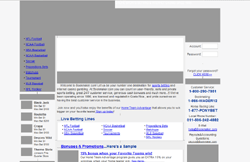 This design was kept throughout 2005 and through most of 2006, where it only experienced a few minor changes. It was at this time that the Bookmaker.eu brand really started to gain even more recognition amongst online gamblers, as far more people started to look to place wagers online and the online gambling scene became more and more popular.
Bookmaker 2007 - present.
It was early 2007 that saw the birth of the current black-design of Bookmaker.eu. It was also in this year that Bookmaker launched its poker room on the "True Poker" network. However, the Poker room is yet to achieve the same success as the sportsbook and racebook, and so it is more of a side-game in relation to these bigger areas of Bookmaker.eu.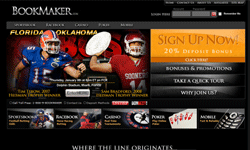 In 2009, Bookmaker.eu is the first choice for many sports bettors and casino game players, which is no doubt due to its long stretch as being one of the most reputable sites for online gamblers.
The success of the Bookmaker.eu is going to continue to grow for many years to come. If the history of Bookmaker.eu is anything to go by, it looks like a re-design of the main Bookmaker website should not be too far away. Either way, it remains as a top destination for anyone looking for a solid sportsbook, racebook, casino or poker room.
More Bookmaker.eu pages.