Bookmaker Mobile
Bet At Bookmaker.eu On Your Cell Phone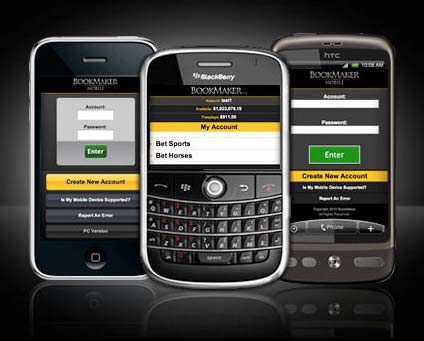 A great feature of the Bookmaker.eu website is the ability to make bets from your cell phone (or "mobile phone"). This is a relatively new feature in the world of online gambling, but it does prove to be incredibly handy for anyone looking to place bets whilst on the move.
Bookmaker mobile review.
With Bookmaker mobile, you are able to place bets in the sportsbook, racebook and casino. Unfortunately, Bookmaker mobile poker is not currently available, but may well be in the future.
Sportsbook
Racebook
Casino
The Bookmaker mobile betting interface is easy to get to grips with and use, and so it should not be difficult to start placing bets. It may take a little longer to place a bet and browse around than it would on a normal computer, but that should only be expected from a condensed version of Bookmaker.eu.
If you want to see a preview of the Bookmaker mobile software, you can view a demo and advertisement for it on the Bookmaker website.
How to get Bookmaker mobile.
If you want to start playing at Bookmaker.eu on your cell phone, follow these simple steps:
Sign up at Bookmaker.eu.
Choose the type of mobile you have.
Download the mobile software.
Sign in through your mobile and start betting!
It's all pretty straight forward, and it should not take longer than a few minutes to download the software and get everything ready to start betting on your mobile.
It may take a little while for you to get used to the mobile Bookmaker interface, but after placing a few bets you will start to feel very comfortable with gambling on your mobile phone or PDA.
Mobile Bookmaker overview.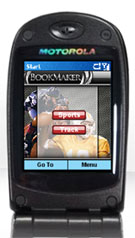 Cell phone betting is a great leap forward in terms of gambling whilst on the move. Bookmaker mobile allows you to place bets at any time of the day, regardless of whether you have access to a computer.
So the next time you can't manage to get to a computer to place a bet, you will be able to simply open your cell phone and place a bet from there. It's all incredibly convenient.
Some people will prefer to place bets online as opposed to on their cell phone, which I agree with. Mobile gambling is not going to be a replacement for betting online if you can get to a computer, but it is great to have it there for when you are on the move and want to get a sneaky bet in.
For more information on the other areas of the Bookmaker website such as the Sportsbook and Casino, have a read over the Bookmaker.eu review page.
More Bookmaker.eu pages.